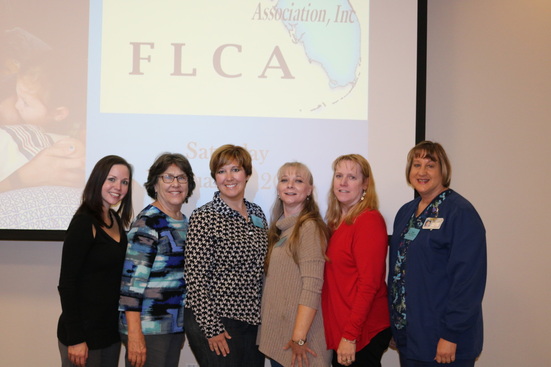 From Left to Right:
Jenn Foster (Past President), Ellen Simpson (Membership Secretary), Laene Keith (President), Dawn Baltz (Recording Secretary), Mary Buskohl-Coulton (Treasurer), Susan Watson (President Elect)

Jenn Foster (Past President)
Jenn is a re-certified IBCLC, mother of four, Master's student in Lactation Studies and passionate about the furtherance of professional lactation management.
In addition to FLCA, she works with other community organizations to aid in helping provide the best education, support and provisions in enabling successful breastfeeding dyads.

Though her passion for breastfeeding began with her first son (now 13) when a visit with an IBCLC, present FLCA member, it continued through the years. Stating off working as a WIC Peer Counselor and later, obtaining a BS in Maternal/Child Health & Lactation Studies.
Her "calling" is helping women/families who walk in the same shoes she did: WIC/Medicaid families who often fall through cracks without adequate lactation management care by an IBCLC due to lack of financial means and the need for IBCLC Licensure.

Ellen Simpson (Membership Secretary)
Although I was born in Pennsylvania, I lived the majority of my young life in St. Petersburg, Florida. That is where I married Glenn, taught special education, began my family of three children and became involved in La Leche League.
For the past 37 years I've lived in Tampa. My three children are grown and living on their own. Glenn and I are grandparents to two girls.
While my children were little, I put my career on hold and served as a LLL Leader.
I have held the position of Area Database Administrator for LLL of Florida and Caribbean Islands for more than 20 years. After teaching preschool and health lessons in the primary grades I sat for the Boards in 1997. Once I was an IBCLC, I opened my own private practice as a lactation consultant. Currently I am retired yet fill my time volunteering.

Laene Keith (President)
Florida Lactation Consultant Association President Laene Keith is a Speech Language Pathologist, International Board Certified Lactation Consultant with an emphasis in pediatric oral -motor/feeding abilities. She is currently serving families within the Health First system of hospitals in Brevard County, Florida. Laene volunteers with FLCA, USLCA and ILCA as part of the conference planning committees. Together with her husband, Dustin, and their two sons: Gavin and Logan, they reside in Viera, Florida.

Dawn Baltz MSN, RN, IBCLC-RLC (Recording Secretary)
My story to becoming an IBCLC was inspired by my daughter. Born at 37 weeks she was a great pretender and zapped my supply within 2 weeks. My hospital IBCLC met with me and shared my struggles with re-establishing a supply. I even had a private IBCLC visit me in my home. However, she never nursed effectively so I pumped and fed. I did not want any mother to go through what I did. Because even as a nurse, I didn't know enough about breastfeeding to be successful. I took a position at the hospital I gave birth at which just happened to be starting their Baby Friendly journey. I learned so much there and eventually became a CLC. I continued to obtain hours and then sat for my IBCLC in 2009.

I work as a Lactation Consultant at Morton Plant Hospital. I am a member of ILCA, USLCA, FLCA, AWHONN, and Sigma Theta Tau. I have always felt it important to participate in my professional organizations. I also participate in the Tampa Bay Breastfeeding Task Force. I have a strong background in maternal infant health. I am proud to be a FLCA member and am honored to be able to serve as the Recording Secretary.

Mary Buskohl-Coulton MSN, RN, IBCLC-RLC (Treasurer)
Originally from Aurora, Colorado I grew up as an Air Force brat and moved frequently. Moved to Florida in 1994. I graduated with my ASDN in 1999 from Florida Community College in Jacksonville. . I went on to complete my BSN and MSN through University of Central Florida. I have worked for the navy for 19 years. The first 13 years was on the mother baby unit, L&D, and critical baby nursery. In 2001 I joined the team at work that would take the hospital on the journey towards becoming Baby Friendly Certified. In August 2011 we became the first Baby Friendly Certified Hospital in Northeast Florida. We were the third military hospital and only the second navy hospital to earn this certification.
I have been a IBCLC since 2004. Since August 2010 I have been the supervisor for the Immunizations Clinic at the navy hospital. Being in close proximity to the pediatric clinic, I am frequently called upon for questions and concerns when babies are seen for well baby visits. With IBCLC on my name tag, I get many questions from moms in my clinic. I not only have the opportunity to teach parents, but staff as well.
I have held the following positions on the FLCA Board: Recording Secretary, President Elect, President, Past President and since 2015 I have held the position of Treasurer.

Susan Watson BSN, RN, IBCLC-RLC (President Elect)
I have worked in Neonatal Intensive Care for over 35 years. I have been employed by Orlando Health for 28 years in the Alexander Center for Neonatology at Winnie Palmer Hospital for Women & Babies. I became an IBCLC in 1999 and have been working in the NICU as an IBCLC since 2000. I am a Board of Director's Emeritus of The Mother's Milk Bank of Florida, a HMBANA milk bank. It was a very gratifying experience to see the collective years of hard work by many resulting in The Mother's Milk Bank of Florida becoming a reality. I am a member of ILCA (International Lactation Consultants Association), USLCA (Unites States Lactation Consultant Association) and have been a member of FLCA (Florida Lactation Consultants Association) since 2001. When asked if I was willing to accept the nomination for President-Elect I felt ill-equipped, but am reassured by the two years of preparation as President-Elect and the support of the President and Board. I do not have a preconceived agenda for FLCA, but am very interested in continuing the cause of licensure of IBCLCs while still acknowledging the importance of other breastfeeding support personnel and their credentials.
I have been married to my husband, Darrell for 28 years and we have three grown children. My fraternal twin boys, Joshua and Jeremy are 25 years old and my daughter Mariah is 20 years old. All three children were breastfed.